TWIN RIVERS FLY FISHING
DEEP CREEK & NINILCHIK RIVER
Ages: All Ages
Duration: 6 hours
Departs: Ninilchik, AK
Location: Deep Creek & Ninilchik River
Exertion: Easy to Moderate
Season: May to October
Price: $299 per person
---
Ask us about custom dates for individuals, couples, families, and groups.
If the thought of hooking into a monster King Salmon or early fall chrome Steelhead gets your blood pumping than this is the fly fishing trip for you! You will fish Ninilchik's beloved "twin rivers" which consists of the Ninilchik River and Deep Creek. Both of these tea colored rivers are closer to the stream category due to their size. But don't let their size fool you because these rivers hold trophy-sized fish!
These magnificent waterways carve through steep bluffs and low-lying forested areas. Wildlife abounds around theses rivers with possible sightings of moose, ducks, sea otter and maybe even a bear. Bald eagles soar in the brilliant sky searching the waters for unsuspecting fish. Ninilchik has become a popular staging area for world class salmon, trout, char and halibut fishing. Alaska fishing at its best!
Twin Rivers Fly Fishing is a "Hike-In" trip.
The King salmon run is the most popular fishery. The run begins in late May and peaks in the second week in June.

Dolly Varden begins running early in July and continues throughout the summer.

Pink salmon runs begin in mid-July and extend into August. Larger runs of Pink salmon occur on even numbered years.

Silver salmon begin running at the end of July and persist until the beginning of September.

Steelhead runs begin in late August and continue into October. This aggressive and prized fish is pursued by the hardiest of anglers with fly-fishing being the most popular and successful method.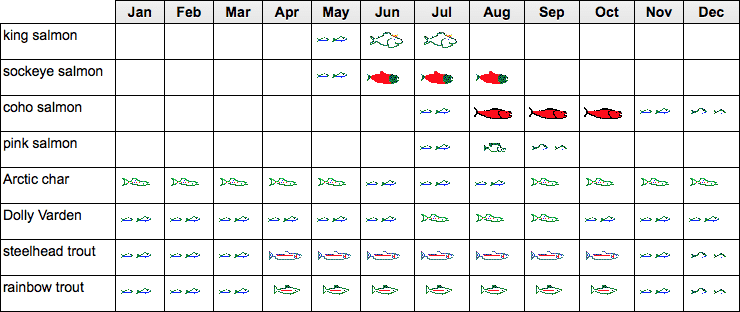 TRIP TIME: Varies
DURATION: 6 Hours
LOCATION: Deep Creek & Ninilchik River
DEPARTS: Ninilchik, Alaska
DIFFICULTY: Easy to Moderate
DISTANCE: 1 to 3+ miles of hiking
AGE LIMIT: All Ages
Meeting Place: Meet in Ninilchik. Specific details will be provided upon booking your trip.
Children: Available for all ages. Under 18 years old must be accompanied by an adult.
What To Bring: Lunch, snacks, and water. Sturdy, well broken-in hiking boots or shoes. Waterproof rain jacket with hood. Clothes for dressing in layers; dress for current weather conditions. Camera, sunglasses, sunscreen, bug spray, water bottle and any personal items.
Inclusions: Fly fishing equipment and tackle. Regular spinner rod & reels available too. Waders and boots where required.
*Run times are approximate and for reference. Fish and run timing may not apply to a particular river, or to a particular area on a river. Sport fishing regulations in Alaska are subject to change, and just because a species may be running, it does not always mean they can be fished.
NEED HELP?
We hope you find the information on this page useful. But if you need help booking your trip or have any questions please contact us.